Only through ethical business management can we create a truly affluent future.
inno.N, since its launch in April, 2014, has been working to have legally compliant business management well established within the organization. CP has now become a part of the organizational culture within inno.N.
At least once a year, all employees are asked to take a pledge to the CP code of conduct and promise to abide by it, so that a culture of fair trade is internalized. In addition, monthly CP committee meetings are held and the degree of autonomous compliance is evaluated to award outstanding employees, and take punitive measures against employees who are in violation of the conduct. Through the efforts of all employees of inno.N, the company was recognized in 2017 for its contribution to the promotion of a culture of fair trade and received the grade AA, the highest grade, in the assessment for autonomous compliance with fair trade regulations.
As the CEO of inno.N, and as the Chief Compliance Officer of the company, I will continue to make legal compliance and ethical business management a priority in decision-making. I kindly ask you to take continued interest in inno.N as it continues its growth into a global pharmaceutical firm.

Thank you.
Chief Compliance Officer
Chief Executive Officer
Dalwon Kwak
As a company that sets an example for good compliance, inno.N contributes to the dissemination of a culture that promotes compliance.
Compared to other businesses, transparent sales and an ethics-driven business management are particularly important in the pharmaceuticals business. Based on this recognition, inno.N has a dedicated autonomous compliance administrator and compliance team that carries out some of the highest number of training on ethics and compliance, and distributes guidelines and training materials that promote better compliance among employees. Monitoring to both prevent non-compliance and audits to identify any irregularities are conducted, and a "Compliance Talk" with employees are held to incorporate suggestions from employees into the company's official compliance program.
inno.N takes great pride in its compliance policies and programs that aim to set an example within the industry through voluntary compliance with fair trade practices, thereby contributing to the promotion of compliance. The acquisition of the 'AA' grade in the compliance assessment in December, 2017, is testament to inno.N's commitment to strict legal compliance, but also a basis upon which the company will continue to build its capacity as a leader in compliance.
Chief Compliance Officer
Strategic Support Officer
Kiho Kim
Our commitment to fair trade practices
We abide by the law and internal guidelines for fair competition in the market for pharmaceutical products.

We do not offer illegal compensation in exchange for the purchase of our products.

We prioritize the interests of patients and make concerted efforts to improve public health.

We aim to become a global pharmaceuticals firm that grows in a sustainable manner.
What is the autonomous compliance program for fair trade?
Compliance Program
The autonomous compliance program for fair trade refers to an 'internal compliance system' that includes the voluntary establishment and operation of rules by a company, as well as training and supervision it implements to ensure compliance with the laws and regulations that promote fair economic order.
Code of conduct and vision
Only through ethical management can we achieve a genuinely affluent future.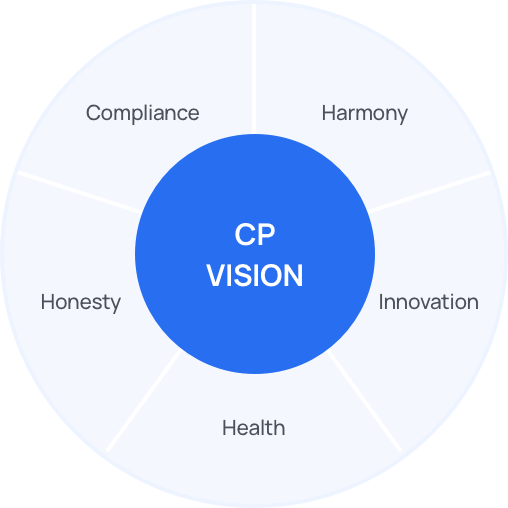 Health

We prioritize the interests of patients and make concerted efforts to improve public health.

Honesty

We do not engage in any illegal acts, and in doing so work towards a society based on honesty and integrity.

Compliance

We abide by relevant laws and internal guidelines to help establish fair competition in the market for pharmaceutical products.

Harmony

We are an ethical company that lives up to its social responsibility and exists in harmony with the local community.

Innovation

We aim to become a truly global player with our compliance program.